DAY 1
FFF Fest has gradually increased in size over the past few years of it's existence. In my opinion, it is the cooler more hip of the music festivals in Austin and always exhibits a vast array of amazing musicians, mostly appealing to a younger audience and following, but always seems to squeeze in surprising acts like the shocking score with Run DMC, P.I.L and X this year. Kicking the first day off at Fun Fun Fun Fest was Austin local favorites Not in the Face, 10yr. and Tia Carrera. Aussie chic quartet, The Jezabels, played a thirty minute set on the Orange stage while French electro duo Mustard Pimp played a set on the blue stage.
Around 6:30,Val Kilmer got on a stage with the Black Lips, in what seemed to be a bad publicity stunt, but rumor had it around town that Terrence Malick was going to film. When the film crew arrived, it was obvious what was going on. Val Kilmer beautifully portrayed himself as a drunken, old rock star who makes a total ass of himself on stage, ranting about God and that rock and roll was dead. Can't wait to see the movie, whatever the title may be. While everyone stood in bewilderment, and embarrassed for the seemingly pathetic ploy of a washed up rock star, Kilmer began to cut his own hair with what appeared to be a knife he got from a stage hand. Later that night, I met up with some friends who actually bagged strands of his hair he was throwing into the audience. We were convinced that we needed to take to a lab to see what kind of drugs he was taking. Entertaining and a great way to start of the weekend of FFF 2012.
Santigold was to be next on my list of must see's coming up on the orange stage. I could only see from a distance but caught a glimpse of her choice of fashion, which is always innovative. Playing some of her greatest, she put on an awesome show.
photo credit: Stereo Gum
I bolted across Auditorium Shores to hit the black stage to see one of my old school favs, X. As I waited to and secured a close spot on the other side of the stages, I got to watch Against Me! who put on a great energetic show and the crowd seem to be engaging well too. Lead singer, Tom Gabel, who I was expecting to see in a dress or something because I had read prior to the show about his revealing to Rolling Stone magazine of his transitions of becoming a woman. Possible rumor? Looked like a regular guy to me. Great show full of energy and as I looked across the crowd, people were singing every song. I am not familiar with much of their music but, I was completely entertained and took on a whole new perspective of them.
Finally, as Against Me! was closing thier set, I look over to the stage in front of me and see none other than John Doe. Guitarist for the very hip, punk Los Angeles band from the 70′s, X. I had seen him in a string of movies through out my life and seeing him in person was very surreal. He still looks good for a man in his mid-sixties and he also rocked it out like any other young cat on the new scene. I even heard a guy behind me mutter, "John Doe is a 64 year-old man, amazing!" He was absolutely right. They played the entire Los Angeles album and started up a dust cloud of moshers in the front, not bad for a band in their sixties.
Splitting out on X, I had to walk back to the orange stage to get ready for headliners, Run DMC. Along the way, I had to stop at the ramps again to catch Thrasher magazines finest line-up of BMXers and skaters and checked out the many colorful art venders with their fabulous art pieces, in which I wanted to buy every last one.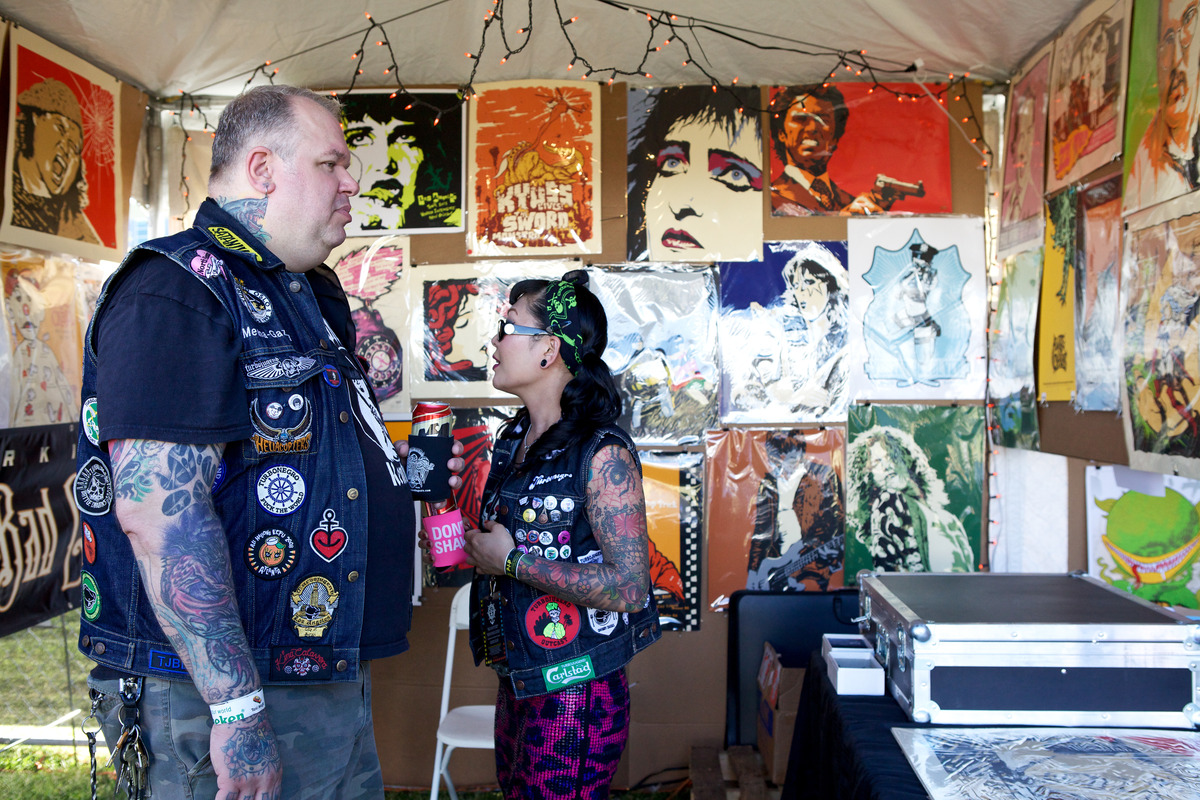 Getting to the orange stage just in time for Run DMC,I had managed to move close to the side and stood on the rock wall to see all the action. It was packed up tight and everyone looked like a herd of cattle trying to get some food in one troth. Anyway, that's a music festival for you. It was Run DMC! This was a once in a lifetime deal.
I was curious to see how they were going to pull this off with out DJ Jam Master Jay. Filling the gap was his two sons, DJs DasMatic and JMJ Son. They held it together like a one man band, just like their dad. Starting out with "It's Tricky", the crowd went ape. I myself was freaking out, seeing one of my childhood favorites for the first time in my life. Next came "My Addias" and one I hadn't heard in at least two decades, "Mary, Mary." He talked a lot about the old days and gave a lot of props to Jam Master Jay. This was the first reunion show since the murder of JMJ. In mid-set he let Dj Das Matic tear it up with his own set of slick DJing skills and then they thanked the crowd and the promoters of Fun Fun Fun Fest, ending their set 15 minutes early.
Day 2
Starting off my day, I headed to the yellow stage to check out the lyrical genius and poet, Saul Williams. Memorizing and amazing, his words slipped off his tongue just as natural as the day is long. Although I would have liked to hear a music set, I was still very impressed with his spoken word, which he interplays in all of his music anyway. He is a true master in alternative hip-hop.
The Riverboat Gamblers were hitting the black stage at 4pm, so splitting time with Saul Williams was not easy, but you got to, if you want to see everything you want. I saw The Riverboat Gamblers for the first time at the Toadies Fest back in August and was blown away by their entertaining and energetic stage presence. Not to mention, the energy from lead singer, Mike Wiebe kills the competition with his constant radical moves.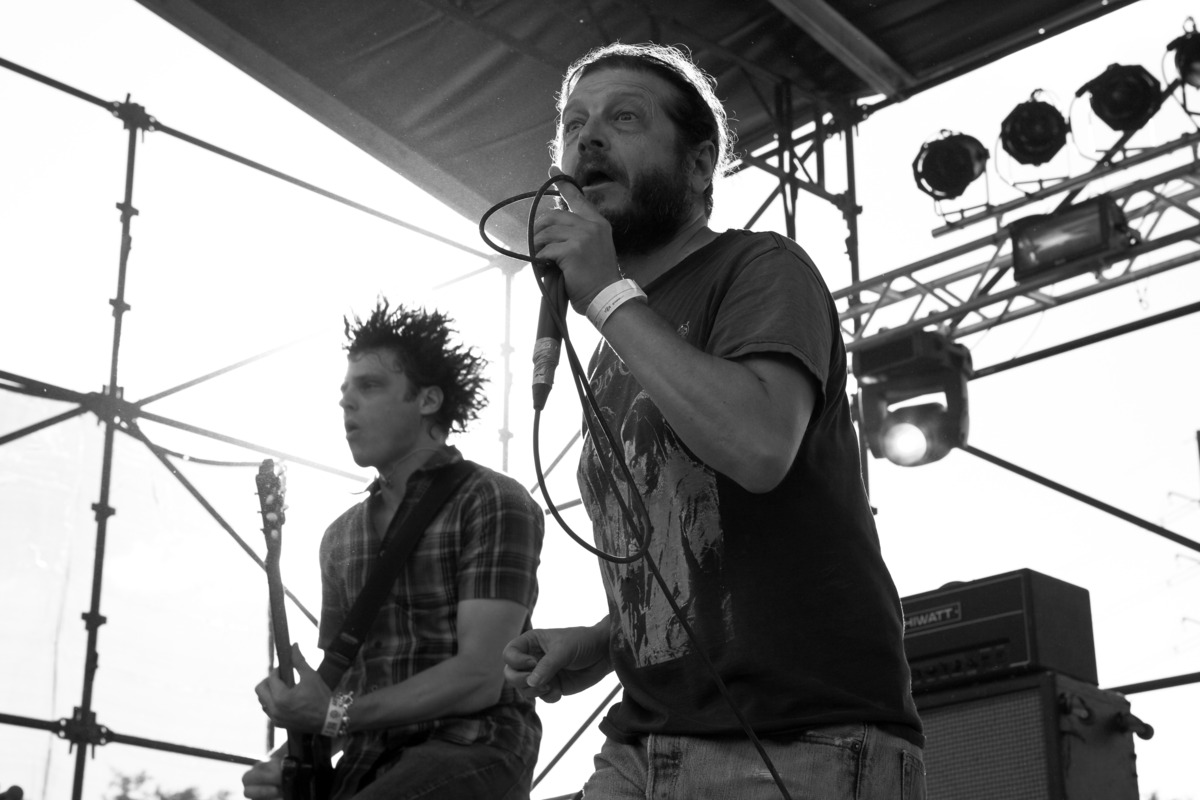 Turning your head to the other stage OFF! kicked it up a notch with former and original lead singer of Black Flag (before Henry Rollins), Keith Morris. Old school punk at it's finest. With his long dreads swinging around his back and voice like a cannon, he was tearing it up. An impressive back to back show at the black stage, I was hooked and I couldn't leave.
Being a huge fan, I couldn't miss Paul Banks. Former lead singer of the post-punk revival of the early 2000′s, Interpol. After their "break" in 2011, most of the former band members went to explore other side projects. Paul sound was very similar of Interpol and his voice is branded on that band like twinkies is to Hostess. It will be recognized wherever he goes. His side project backing band was great, but I was hoping for him to bust out some "PDA."
The Head and the Heart was up next and I stayed to listen only because I wanted to keep my spot on the other stage in preparation for P.I.L. Ever since Edward Sharpe and the Magnetic Zeros hit the scene, I have seen a string of hippie jam bands with many lead singers and tambourines. Very nostalgic of some 60′s folk.  I love the song "Lost in my Mind", which they closed out their set out with and everyone was singing along happily.
Photo by Spin magazine
Closing out the day was none other than Mr. John Lydon (rotten) himself. Coming out in a nautical fashion, keeping up with the theme of the fest I guess, was quite pleasant, to my and boyfriends dismay. We were expecting him to be complaining and ranting the whole set. I have been a huge fan most of my life and P.I.L is an incredible group of musicians. His guitarist, Lu Edmonds, looks like he just walked out of a Monty Python movie and is known for playing strange instruments which we saw him play throughout the set. They performed many songs off their new album, This is P.I.L, which was released in May and is one of my favorite new albums of 2012. He was also gracious enough to throw in some favorites like "Rise" and "Human" also.
Day 3
The last day of the festival had a cancellation by Rakim due to hurricane Sandy and filling the spot was Omar Rodriguez Lopez of the Mars Volt and At the Drive-In. Sliding in to take back his spot lost on Friday due to tour van issues.
.
Starting up the day was local rock stars, UME. Lauren Larson shreds like a rock goddess and her tiny body man handles her bass with ease.  Following throughout the day was Feathers, Nicky Da B (who flapped her butt cheeks around the audience like she was going to take flight), Valiant Thor, The Octopus Project and one of the co-headliners was old school R&B, De La Soul.
Ending the fun fun fun was also, Edward Sharpe and the Magnetic Zeros, Etiene De Crecy, Turbonegro and none other than Black Moth Super Rainbow.
What a nice closing to another successful Fun Fun Fun Fest 2012. Looking forward to next year, but still longing for the days back when FFF was at Waterloo Park. Not as dusty I suppose and much more quaint. Every year it keeps growing bigger and pretty soon it will be in the ranks with ACL. I suppose we will see. Till next year, see ya back at the shores!